Solana and Polkadot grow much faster than Ethereum while Ethereum still has the biggest ecosystem of developers in Web3 as we can see more today in our latest Ethereum news.
The top five blockchain ecosystems in terms of developers are Polkadot, Cosmos, Ethereum, Solana, and bitcoin according to Electric Capital. Solana and Polkadot however have more active development than Ethereum did at similar points in history. There's nothing like a market boom to bring people on board but after the 2021 record prices, more developers joined the Web3 projects last year.
1/ Time for @ElectricCapital's Annual Developer Report:https://t.co/aiKIJnwYdm

We analyzed 150m+ repos & xM code commits to produce these 100+ charts.

This was a community effort: 150 people contributed via email and Github! Thank you everyone who helped.

Let's dig in

— Avichal – ElectricCapital ┻┳ (¤,¤) (@avichal) January 5, 2022
According to the news reports from crypto investment firm Electric Capital, Several protocol ecosystems are surpassing the biggest developer ecosystem- Ethereum. Solana and Polkadot but also Avalanche, Terra, NEAR all have faster ecosystem growth than Ethereum. The metrics used to come to this conclusion are the length of days since the first "commit" or the changes to the code and the number of developers since launch. When measured against Ethereum at a similar stage, the six-layer 1 ecosystems have more active developers. Solana, Terra, BSC, Avalanche all emerged in the past year as the main new hubs for decentralized finance DEFI activity with their networks bringing applications for peer-to-peer lending, swaps, and other transactions. Their token prices increased on the charts and NEAR is also integrating the Defi elements causing the native token to hit a new high this week. After a few years of work, Polkadot launched "parachains" at the end of December which brought smaller blockchains onto the network.
Electric Capital's report includes several elements that put ecosystem growth into perspective. First, it admits that not all commits are equal in terms of time spent and limits the scope to open source code repositories that has the effect of undercounting the total developers. The report slices developer data in a few ways including looking at full-time, part-time and one-time protocol and developers so when looking at the full-time developers, Solana, BSC, Polkadot, and NEAR are still ahead of Ethereum but Avalanche and Terra are not.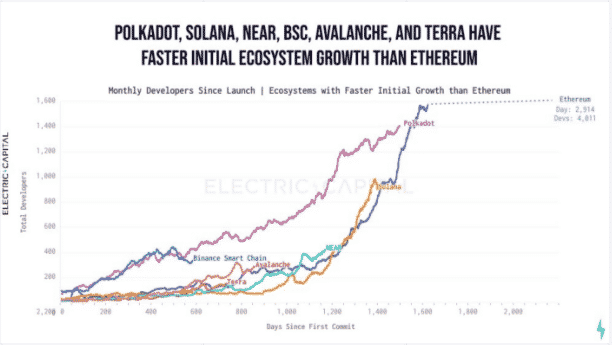 The Electric Capital report also shows the retention levels across protocols and what makes the developers stick around. Ethereum gets the biggest share of new Web3 developers that average between 20 and 25% of the total each month. This equates to over 700 new developers for Ethereum per month. 30% of the developers that started full time on Ethereum projects in 2017 were around in 2021 and across the entire Web3 space, the retention thorugh three years was 30%.
There's slight recognition that Bitcoin and Ethereum existed in different market environments compared to Solana and Terra. Bull Runs attract more developers and the success of BTC and ETH via previous bull cycles helped prime the bigger crypto ecosystem that we can see today.
Learn more