Ethereum loses its dominance in the DeFi space according to analysts at JPMorgan as we can see in today's Ethereum latest news.
Ethereum loses its dominance in Defi and it could start reclaiming some ground following the ETH 2.0 update. Analysts at the investment bank including Managing Director Nikolaos Panigirtzouglu noted that Ethereum is losing its dominance in the Decentralized Finance ecosystem. Plenty of crypto protocols such as Terra, Solana, Avalanche which emerged as strong competitors in 2021 with their supremacy is at risk of being eroded in the ongoing years as the experts added. Citing the analyst, Bloomberg reported that Ethereum now accounts for nearly 65% of the Defi market share but the protocol is now losing its dominance at the start of 2021 which was almost 100%.
The experts said that Ethereum will gain steam again in the final phase of Sharding as the most criticial development for scaling the ETH network whcih gets completed in 2023 but until then the projects like Terra, Binance Smart Chain, Solana, and Avalanche could close the gap even more as they were receiving larger amounts of funding and public attention. The JPMorgan analyst noted:
"In other words, Ethereum is currently in an intense race to maintain its dominance in the application space with the outcome of that race far from given, in our opinion."
Ether is the native token and the second-biggest cryptocurrency by market cap finished 2021 with a price rise of 220%. the experts argued that its USD value could suffer in the short term due to the network's weakened supremacy in the Defi sector. The banking giant especially its CEO Jamie Dimon was one of the biggest opponents of BTC and urged investors plenty of times to stay away from the main asset calling it "worthless." JPMorgan seems to have a different stance on Ethereum. Analysts at the financial institution stated that ETH is outperforming BTC and expects the trend to go on. Bitcoin is a store of value while the rival is a technology and the backbone of the entire crypto economy.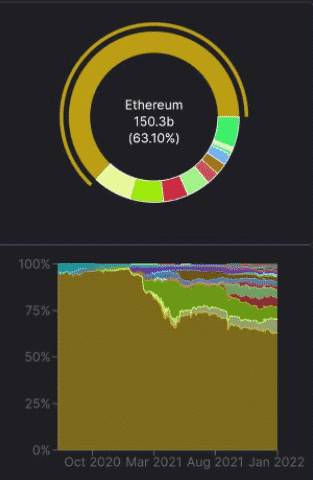 The same researchers said the protocols running on the PoS mechanism are more energy-efficient than BTC that employs proof of work and some investors because of it could be more inclined to invest in ETH rather than BTC.
Learn more