Ethereum and Bitcoin slip to a there-week low while the industry remains optimistic and hopes for a new BTC rally so let's read more in today's latest altcoin news.
Ethereum and bitcoin slip to three-week lows and it seems that the rally during the Bitcoin 2022 event in Miami hasn't really lived up to the standards. BTC slipped below $42K which are levels last seen on March 22. BTC is trading at $41,532 with the data from CoinMarketCap showing that the number one cryptocurrency Is down by 2.36% in the past day and 9% in the past week.
The BTC 2022 conference gathered thousands of crypto supporters and executives from crypto companies but also saw a few announcements like the Cash App direct deposit feature that enables employees to receive wages in BTC, LN-based payments Strike's integration with Shopify, and more. Unlike last year's event that saw president Saying Bukele of El Salvador announcing his country will adopt BTC as a legal tender, none of the news this year served to boost the BTC price.
As the 7-days chart shows, BTC peaked above $47,000 and hit the skids in the next few days. A brief spike above this level failed to result in an extended breakout. The rest of the marekt followed suit with Ethereum being don by 5% on the day and changing hands at $3076. Ethereum's price slipped by 11% over the past week with the former BitMEX CEO Arthur Hayes predicting that the coin could hit $2500 by the end of June. While admitting that there's isn't a lot of science to these numbers other than a gut feeling, Hayes noted that both BTC and ETH are highly correlated to the NASDAQ stock marekt which also dropped by 3.85% on Tuesday, as he wrote:
"If the NDX tanks, it will take crypto down with it."
The former BitMEX chief expects the broader crypto carnage to come soon and take the BTC price as low as $30,000. Terra's LUNA is hit the hardest and among the top 10 cryptocurrencies as it dropped by 8.17% ont eh day followed by aVAX which dropped by 7.39%.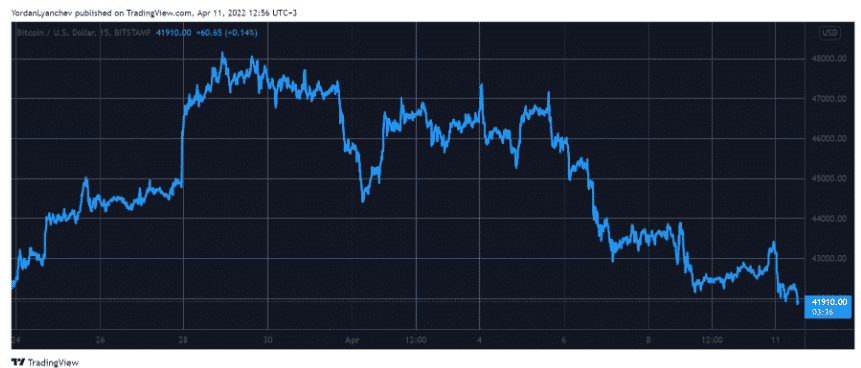 BTC whales often employ the method to trap retail and to obtain liquidity to take the positions with the smaller investors seeming to have taken the bait. The analyst Ali Martinez showed an increase in the number of long positions which are taken on the Binance exchange. The long/short ratio stands at 70% for the long traders and 29% for the opposite side of the trade.
Learn more