Play-to-earn games are the rave of the moment. This new gaming model allows players to earn real money, enabling a thriving crypto economy. While several options are currently in the market, selecting the top play-to-earn NFT crypto can be a chore.
We address this challenge in this guide and show you potential gaming crypto you can invest in for long-term growth.
1. Axie Infinity (AXS)
Axie Infinity is the cream of the blockchain gaming space and a top play-to-earn NFT crypto. Launched in 2018 by tech company Sky Mavis, Axie Infinity is a Pokemon-inspired NFT game that allows players to retain partial ownership of their digital assets.
Axie Infinity ecosystem swirls around non-fungible tokens (NFTs) called Axies, which players collect, breed, raise, battle and trade on the Axie Marketplace. Each player gets to develop their Axies through experience points generated from combat from other players. Each Axie comes with unique traits and attributes, and the Axie team provides access to 500 different body parts.
Axie Infinity has shot to remarkable fame with the Ethereum-based protocol recording over $4 billion in its NFT sales and a record number of visitors monthly. Building on this success, the Axie team are already working on a new play-to-earn NFT game called Origins.
Axie Infinity has also signed a partnership deal with the popular EU-based crypto exchange Bit2Me Global. The collaboration is geared towards boosting community engagement with Axie Infinity and blockchain gaming in the EU and the Latin American region. Added to this, AXS will be tradable on the digital asset exchange.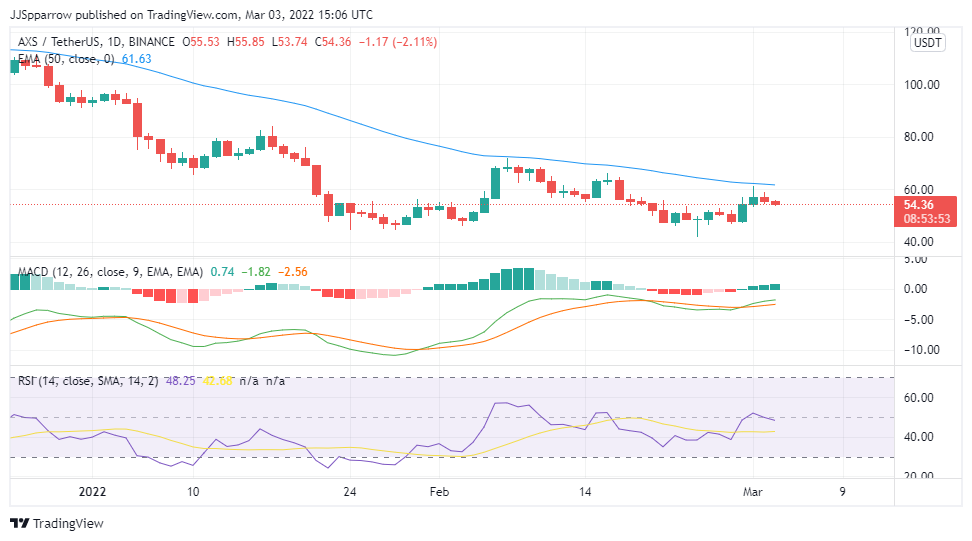 At press time, AXS is trading at $54.36, down 4.29% in the last 24 hours. However, the digital asset's moving average convergence and divergence (MACD) points to a buy signal as the relative strength index shows that AXS is trading in the underbought region.
2. My Neighbour Alice (ALICE)
Still under heavy development, My Neighbour Alice is another top play-to-earn NFT gaming crypto currently in the space. The blockchain protocol is a multiplayer game and allows users to buy and own virtual lands which they can develop and create and collect various items on them.
My Neighbour Alice is geared towards onboarding millions of users into the blockchain ecosystem and aims to do this by allowing users to play games they love while generating passive income.
Fundamental-wise, My Neighbour Alice has kept in step with other play-to-earn games. The crypto protocol has recently been listed on the Coinbase exchange and its NFT platform.
Price-wise, native token ALICE has been subject to the frequent price swings of the crypto market. The digital asset is currently trading at $7.19, down 3.50% in the last 24 hours.
3. The Sandbox (SAND)
The Sandbox is a top play-to-earn NFT gaming protocol and is one of this year's highly anticipated projects. Hosted on the Ethereum network, The Sandbox aims to revolutionise the gaming industry by providing players with a platform to grow and thrive.
SAND thrives in a virtual reality world and combines the finest aspects of blockchain technology, decentralised finance (DeFi), and NFTs in a 3D Metaverse space. This digital asset thrives on three core components: The VoxEdit, Game Maker, and The Sandbox Marketplace. VoxEdit provides user-friendly software for artists and creators to create, rig, and animate their voxel-based NFTs.
The Game Maker allows users to create games for free, while the Marketplace allows the purchase and sales of NFTs for the SAND tokens.
The Sandbox has remained a sensational project and has enjoyed global celebrity patronage. Hip hop legend and rapper Snoop Dogg is a well-known backer of the play-to-earn game. Meanwhile, the Metaverse project is currently expanding its reach into the entertainment space. The Sandbox has recently teamed up with CubeUnited to launch a virtual space and digital assets in the Metaverse, in a bid to grow more followers for the K-Culture globally.
The Sandbox is currently working on its new Alpha Season 2 for users to get a first-hand experience of the Metaverse protocol. Users will be able to connect, share, and win SAND tokens and exclusive NFTs for their participation.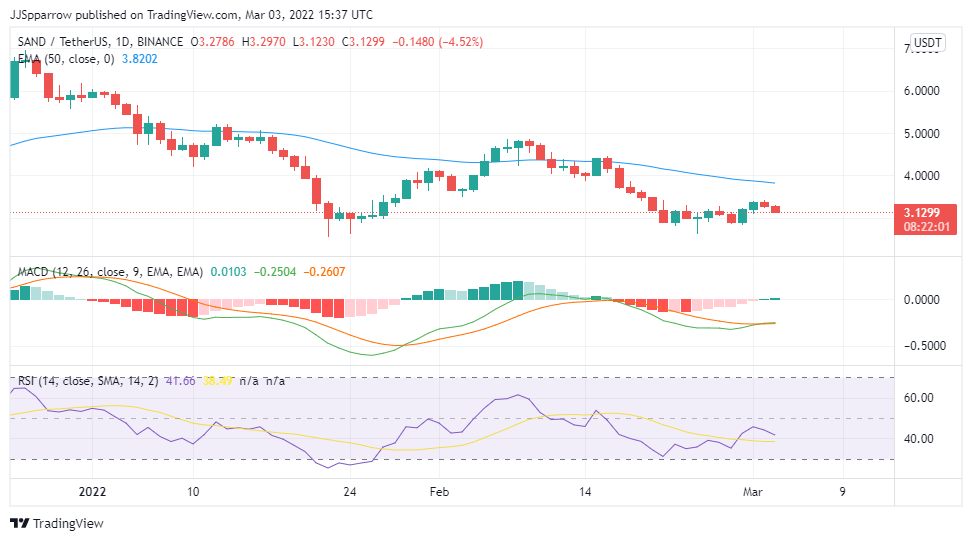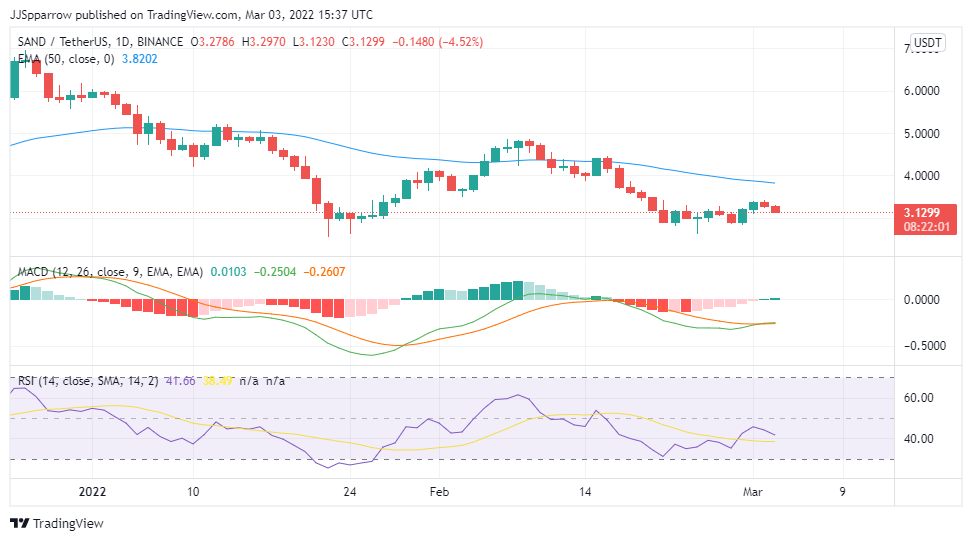 At press time, utility token SAND is currently trading at $3.1299, down 4.17% in the past day. A weekly gain of 13.58% shows a strong bullish potential for the coming weeks.
4. Decentraland (MANA)
Decentraland is not a full-fledged play-to-earn game. However, the digital asset offers a window into the booming crypto ecosystem. Hosted on the Ethereum network, Decentraland uses a combination of virtual and augmented realities to create an immersive experience for users. The protocol is one of the most recognised crypto brand in the Metaverse ecosystem and a top play-to-earn NFT protocol.
At its core, Decentraland is a host network for consumers who get to create, share, and monetise content and applications. Additionally, Decentraland also features virtual real estate, which allows users to buy virtual parcels of lands, develop and then lease or sell for a higher value.
Decentraland offers a strong entry point for many investors keen on tapping into the Metaverse ecosystem buoyed by growing adoption. Popular US bank JP Morgan recently launched a virtual lounge in Decentraland pointing to a growing interest.

At press time, Decentraland's MANA token is trading at $2.6, down 4.99% as the crypto market struggles with the bears.
5. Gala Games (GALA)
Gala Games is another top play-to-earn NFT game all investors should pile into. A blockchain gaming startup, the protocol aims to allow players to enjoy playing games while making the underlying technology invisible to players. Gala Games aims to give back control to players and retain ownership of all digital assets and NFTs they own on the platform.
The crypto favourites Town Star and NFT collectable series VOX have come from the Gala Games' stable. Both projects have become a viable option for users to connect and generate passive income.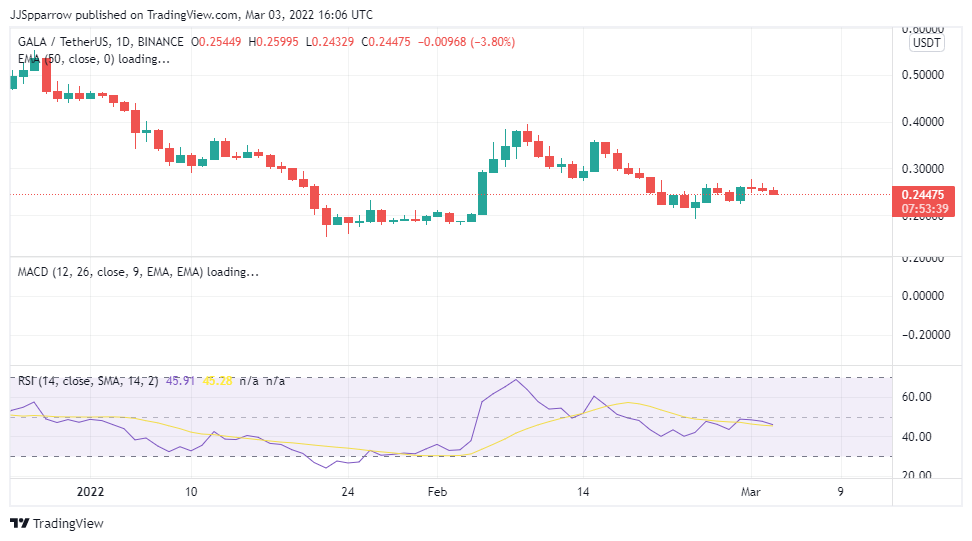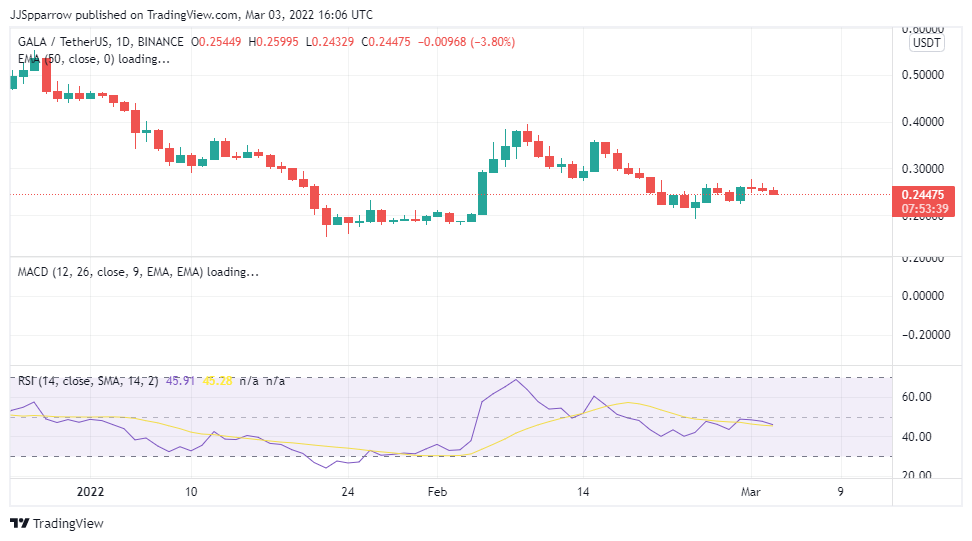 Crypto wallet platform SimpleHold recently added support for the GALA token pointing to a growing number of adoptions. At press time, GALA is trading at $0.24, down 5.04% in the last 24 hours. A weekly gain of 15.75% shows that the digital asset has made strides in the past week.
Read more:
Learn more